Grants and student awards
In this page you can find information about the grants and awards specifically offered to MAMME students.
You may also be interested in visiting the UPC web page about GRANTS AND FINANCIAL AID
Students finishing a bachelor at UPC may have a discount in the fees of the first semester in MAMME for each MATRÍCULA D'HONOR awarded in the last semester of the bachelor degree.
Some past grants
Grant Fundació Catalunya La Pedrera (Closed)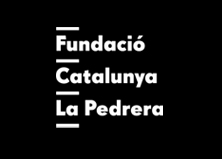 The
Fundació Catalunya La Pedrera
has selected MAMME as "màster d'excel·lencia" in the last years, funding one grant of 5.000€ for tuition fees. 
Requirements: spanish citizenship, excellent academic records, being accepted at MAMME 2018-2019.
Application deadline:  June-July (see e-mail from the MAMME coordinator)
Winners: Guillem Alsina (2015-2016), Óscar Rivero (2016-2017), Àlvar Pineda (2017-2018)
Teaching support scholarships
AGAUR teaching support scholarships, under the AAD program, aim to support the academic activities at Catalan universities.
Requirements: being registered at MAMME, no previous master diploma, not being beneficiary of other UPC grant.
Application:
usually in October. Look for the AAD call at
AGAUR web page
.
CCABA scholarship
The Advanced Broadband Communications Center (CCABA) is the UPC's reference center on 5G & Beyond communications systems. The CCABA is currently participating in several European research projects and collaborating with industrial partners, such as Telefónica, Nokia, and Intel. Projects are focused on IP network and Telecom Cloud operation and planning, Software Defined Networking / Virtualization of Network Functions, and application of Machine Learning to networking.
The CCABA offers a number of scholarship grants for MAMME students. Successful candidates will join CCABA and work with top-level scientists to develop their Master thesis in exciting research projects related to the above topics.
The duration of each scholarship is for 10 months starting in October. The scholarships are over 6,000 EUR.
Requirements: bright and highly motivated students, accepted in MAMME, with excellent qualifications and interest in mathematics and computer science, including Operational Research, Artificial Intelligence, Algorithmic Techniques and Discrete Simulation.
Application: Interested candidates should submit their CV, including academic record, in English by Email to Luis Velasco (luis.velasco@upc.edu) no later than 10th September.
Student Excellence IMP award 2014-2015, 2015-2016 (CLOSED)
The
Student Excellence International Master's Programme award
recognises the academic excellence of students taking the master's degree in Advance Mathematics and MathematicalEngineering (MAMME).
It is funded by the Catalan government's Agency for the Management of University and Research Grants (AGAUR), which has distinguished MAMME with the International Master's Programme (IMP) mention, in the 2013 call. The Faculty of Mathematics and Statistics has agreed to assign part of the funding to grants recognising the academic excellence of students on the master's degree.
The grant must be used to help cover the cost of tuition fees. All students who satisfy the requirements are eligible; students do not need to apply to participate.
Requirements: Eligible students must have started MAMME in the 2015-2016 academic year and must have passed at least 4 subjects during the first semester (S1) corresponding to two thirds of the master's degree's taught stage (excluding bridging courses and the master's thesis).
Winners: Marc Calvo and Elisabet Burjons (2014-2015), Alba Muixí (2015-2016)